Meet Lolly, the accident-prone Labradoodle
There's something about Lolly and Karekare beach. She ruptured her first cruciate there. And her second. Then she ate a dead fish. Yep, she's a wee bit accident prone.
Name: Lolly
Breed: Labradoodle
Tricks & Loves: Food! Once I made a cake with a whole lot of umbrellas on it for my son's disco. Lolly got into the pantry and hoovered up all the cake. All that was left were the umbrellas lying on the floor.
Lolly's story: Lolly ruptured her first cruciate joint. Then her second. Then she got a fish bone caught in her gut.
How Lolly became part of the family
"I was going out to buy a piece of steak… and came back with a dog! I saw her in a pet shop and had to have her. My husband wanted a Labrador, but I got a Labradoodle because "they don't shed" - turns out she sheds like crazy!
She loves the boys. When my two boys come home – that's her signal for dinner.
I'm the only female in the house so she's like my daughter. We have two sheepskin bean bags and say, "She's not going on there. And then, yup that's where she goes." She lovingly pushes the envelope and winks at you while she does it!"
Why we got pet insurance
"My identical twin sister [both are chefs] had a dog website called Doggle. They said to me if there is one thing I needed to do, it's to get pet insurance. And it's been a godsend. It's paid for itself time and time again.
When I first bought Lolly, I got the first six weeks free because she was a puppy. In fact, our whole family is on Southern Cross, so it made sense to cover her too."
"Our whole family is on Southern Cross – including Lolly."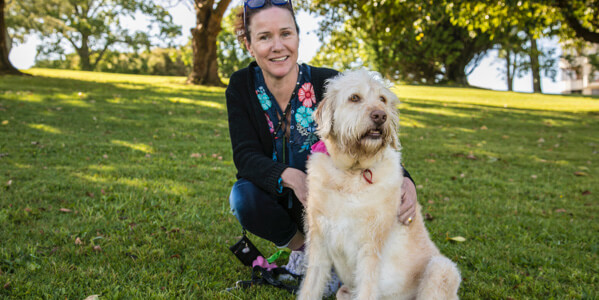 What happened to Lolly
"My mum lives at Karekare beach. When Lolly goes there she is beside herself. She runs back and forth out of sheer joy as she never knows which way is the best way to go first.
It was in Easter and she came back from her run, limping. We didn't think it was much but it got worse over 5 weeks. Then boom - it just went. A ruptured cruciate. She was on three legs… I'd do anything to make it right.
The second time, we were overseas, so Mum had her again. And that's where she ruptured her other cruciate. Then last holidays, I got a phone call from Mum and I knew straightaway something had happened to Lolly. Yep, she ate a dead fish. It all happens in KareKare."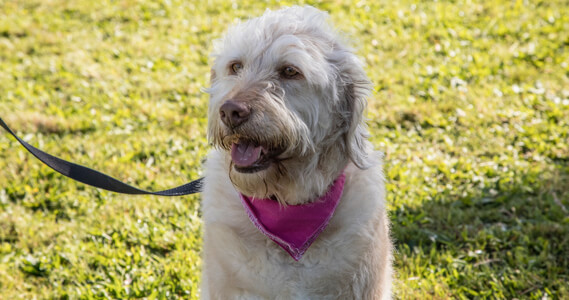 "The insurance has been a god send. It's paid for itself time and time again."
What all this cost
"The cost of two cruciate joints totalled over $9,000. I probably haven't claimed as much on myself as I have her!"
What having Southern Cross Pet Insurance has meant for our family
"The amount we have spent on vet bills - I wouldn't hesitate to have insurance. No one can afford being hit by a $10,000 bill or even a $1,000 bill. Just think of having to tell the kids "Sorry, but our dog's gone" – I never want to have to do that."
How is Lolly these days?
"She's recovering well. She's lying on my son's roll-out bed. He thinks that's special.
Now she's got titanium implants - she wouldn't go through a metal detector at an airport that well."
We'd like to thank Lolly, Sarah and the rest of the Ross family for welcoming us into their home and allowing us to share their story. Our customers really are the best.
Disclaimer: Lolly is on a Southern Cross PetCare plan, see what our different policies cover here. This customer story relates to a claim that was assessed and paid under the terms of our PetCare policy that applied before the changes that were made on or from 1 December 2023. So what you can claim for and how much you will be reimbursed will depend on when the changes take effect for your policy (for existing customers) but will differ under the PetCare plan that took effect on 1 December 2023 for new customers.