Finnegan's nasty Christmas surprise
Some Christmas surprises are wonderful and others not so much - like when Finnegan, the Wheaten Terrier, gobbled up Granny's Christmas cake.
Name: Finnegan
Breed: Wheaten Terrier
Tricks & Loves: Making you chase him to get your coat hangers
Finnegan's story: Raisins are toxic to dogs, so when Finnegan chomped into Granny's Christmas cake (on Christmas day!), his family rushed him to the vet, who induced vomiting.
What Finnegan means to our family
"Finnegan is our fur-baby. He just gives you a lot of joy. Anything you give to him, he gives back in spades.
He's always there, wanting to do things with you; he's a bit of a comedian. If he gets bored, he'll go find something that he's not meant to do. Like go into the wardrobe and find some hangers lying around and bring them out so you have to chase him.
He's a very affectionate dog, we get a lot of good vibes and feedback off him."
Why we got pet insurance
"We got Finnegan from breeders in Rangiora, and we took out pet insurance soon after.
If you're going to have a dog it's important you look after them. And even one vet bill can turn out to be quite expensive.
Basically, it was a commitment by us. We were getting a dog. He was going to be a part of the family, and if he gets sick we wanted to be able to get him the best treatment possible."
"Insurance was a commitment by us. Finnegan was going to be a part of the family, and if he got sick we wanted to be able to get him the best treatment possible."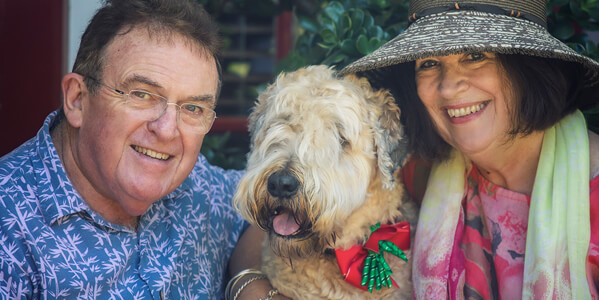 What happened to Finnegan
"It was Christmas day and we had family around. My mother likes to make Christmas puddings and cakes. They're famous in our family. It's usually laden with all sorts of alcohol. She lets the fruit soak for ages in a mix of alcohol. There could be a Guinness thrown in there, I don't really know.
Anyway, the cake was left on a side table, but when we went to serve it, it was gone. We looked around and there was Finnegan, looking particularly sheepish.
You see he's a bit of a counter surfer, so he strolled in and demolished different French cheeses and the Christmas cake! He likes the good stuff.
I wasn't worried at first, but Jackie had read how dangerous raisins can be. They're toxic for dogs - their kidneys can shut down, and they can have multiple organ failures within 24 hours if you do nothing - so we knew we needed to act quickly.
We called around and, of course, there were hardly any vets open being Christmas day, except the emergency vet down in Point Chev. We rushed him down. They were able to induce vomiting and he bought up 3 dozen raisins!"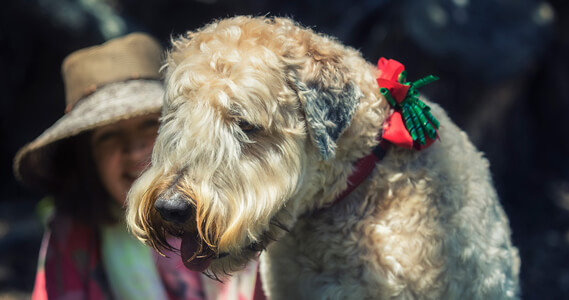 "Of course, having insurance there was no question about going to the vet and getting help."
What all this cost
"All up it cost $380. It was a very expensive Christmas, but the insurance certainly helped."
What having Southern Cross Pet Insurance has meant for our family
"The experience with Southern Cross has been great. The people have been great, claiming has been easy and they've paid out really quickly. It's been well worth it."
How is Finnegan these days?
"He's six and half now and still has a taste for fine-dining. It's happened again, you know. This time on a Sunday morning with pain aux chocolate.
That was another trip to the vet and another claim, bless him."
Interested in protecting your pet with Southern Cross Pet Insurance? Get a quick and easy online quote now.
We'd like to thank Finnegan, Jackie and Francis for welcoming us into their home and allowing us to share their story. Our customers really are the best.
Disclaimer: Finnegan is on a Southern Cross PetCare plan, see what our different policies cover here.