Why cat health insurance is so important
Cat insurance is a vital part of your moggy's care. We say cats have nine lives, but cats and kittens are just as prone to illness and accidents as we are.
Unlike humans, cats aren't covered by free medical care or ACC when they get sick or injured. Insurance for your cat or kitten helps you cover the bill if the unexpected happens.
Cats hold a special place in the family. They're the household mischief-makers, the adventurers, the sun-seekers. We'd do anything for our fur babies. But if your kitten misjudges a jump or your cat develops a health issue, veterinary care can cost thousands of dollars.
At Southern Cross Pet Insurance, we paid out more than $19.9 million in claims over the past year. The most expensive cat claim we paid out for 2021 was over $11,000 for a ragdoll which got hit by a car.
Health care for your cat can get expensive. Cat insurance is important because it helps you cover the bill when the unexpected happens.
"We have our daughter, Zoe, and ourselves on Southern Cross Insurance – why wouldn't we have it for our cats?" "

Kate, Baxter's owner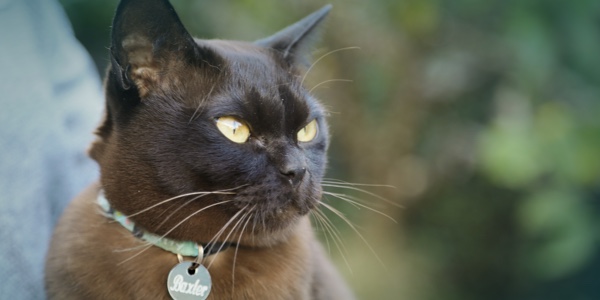 Baxter the Burmese cat has a thing for Nerf gun pellets. He's snuck over to a neighbour's garden to nibble on the popular children's toy gun pellets not once, but twice!
These days, Baxter's an indoor cat. He's back to his usual attention-seeking self, throwing tantrums and loudly meowing every time he enters a room.
Pet insurance for kittens
No matter how careful and responsible we are, accidents and illnesses still happen to our furry friends. Did you know you're more likely to claim on your pet insurance than your car or home policy?
From misjudging a jump to eating something they shouldn't, kittens are curious and mischievous by nature. Having pet insurance from the early days of your kitten's life with you means you have peace of mind if the unexpected does happen. It also means you can be more confident you'll have some help with vet bills if your cat develops an illness later in life.
Get 6 weeks free insurance for your kitten if they're between 6 and 26 weeks with our
FreeCover
product.
Find out more
Pet insurance for older cats
Pet insurance is still an important investment if your cat is no longer a kitten, even if they're not showing any signs of health concerns. If you sign your cat up to a PetCare plan before they are 7 years old, you will be covered for eligible accidents and illnesses that start to arise as your cat gets older, so long as they aren't pre-existing conditions at the time that you take out the cover (see policy document for full terms, conditions and exclusions). A cat's body begins to experience age-related biological changes at around 7 – 10 years old but can live to be as old as 20. As cats get older, they're more likely to get sick or suffer from diseases like joint disease.
The best cat health insurance plan for you and your pet depends on your situation and what you want to be covered for. We've got simple plans to suit all budgets and offer discounts for multiple pets.
Pet insurance for your cat
At Southern Cross Pet Insurance, we've got two different insurance plans for cats:
PetCare
PetCare is a great choice for young cats and kittens. It's our most comprehensive pet insurance plan and covers accidental injuries and illnesses.

Choose the amount of cover you want (up to $15,000 per year) and add extras like day-to-day care to cover (think: additional cover for de-worming & flea treatment & microchipping).
AcciPet
AcciPet is our budget-friendly pet insurance. This pet insurance helps cover vet costs for accidental injuries, and you can claim up to $5,000 per year.

If your cat is older than 7 years, you can sign them up to AcciPet to get them accident-only cover, or if you want a more budget-friendly option which covers accidents only, this could be the plan to look into.
Compare pet insurance plans to find the best option for you.
Sign up now