Why pet insurance for your dog is important
Pet insurance for your dog is an important part of your dog's care. Just like us humans, puppies and dogs of all ages occasionally need medical care. Our fur babies are as prone to accidents and unexpected illnesses as we are. But unlike us, our dogs aren't covered by free healthcare and ACC.
This is where dog insurance comes in. We'd do anything for our furry family members. But if your dog unexpectedly gets sick or injured, emergency vet bills can cost thousands of dollars.
Over the past year, Southern Cross Pet Insurance have paid out more than $19.9 million in claims for sick or injured pets. Some dogs' medical bills were more than $10,000 – a big sum to pay when you're not expecting it. It's reassuring to know dog insurance can help cover the cost.
"Fifty bucks a month in insurance is nothing compared to ten grand in vet bills."

Hannah, Daryl's mum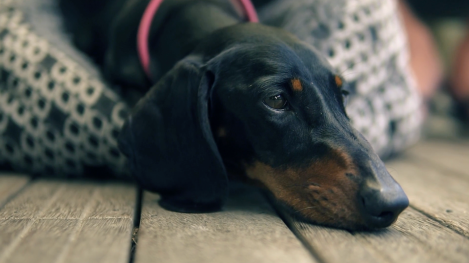 Daryl the Dachshund was in the car on her way back from puppy school with her human, Hannah, when the car got t-boned. Daryl suffered a fractured pelvis and was rushed to the emergency vet.
Daryl's fully recovered now and back to her mischievous self. Both she and her puppy brother, Dexter, are on a Southern Cross PetCare plan.
Pet insurance for your puppy
There's a lot to think about when you have a puppy, from puppy school to dog-proofing your home – don't forget about your puppy's health insurance. Having pet insurance from the early days of your dog's life means you can be confident you're covered when your puppy gets older, or if the unexpected happens.
No matter how responsible and careful you are, you can't predict when, or how, your dog will get sick or hurt. From eating something they shouldn't, to taking a tumble, we've all known a puppy who is a natural trouble-maker! Dog insurance means you don't have to stress so much about the vet bills. You can focus on making sure your dog gets the medical care they need.
Get 6 weeks free insurance for your puppy if they're between 6 and 26 weeks with our
FreeCover
product.
Find out more
Insurance for older dogs
Dogs are always puppies at heart. But, just like humans, older dogs are more prone to illness and accidents as their hearts and hips get older. It's no surprise that more than 80% of the claims Southern Cross Pet Insurance pays out are for illness, rather than accident.
In 2015, Kiwis spent more than $190 million on veterinary services for their dogs1, so it's important to choose the right pet insurance for your dog.
1Companion Animals in New Zealand 2016 Report
Pet insurance for your dog
At Southern Cross Pet Insurance, we've got two different insurance plans for your dog:
PetCare
Our most comprehensive pet insurance plan. This covers accidental injury and illnesses so you have peace of mind. You can choose the amount of cover up to $15,000 per year and add extras like dental care and day-to-day care (think: additional cover for flea treatment & microchipping).

This is a great insurance option for puppies and younger dogs. Plus, once you have a PetCare policy, it can run for your pet's life.
AcciPet
Our budget-friendly pet insurance, which helps cover vet care costs for accidental injuries. You're covered up to $5,000 per year.

If your dog is older than 7 years, you can sign them up to AcciPet to get them accident-only cover, or if you want a more budget-friendly option which covers accidents only, this could be the plan to look into.
Compare pet insurance plans to find the best option for you.
Sign up now