We're increasing our support for our charity partner
Here at Southern Cross Pet Insurance, we're on a mission to help New Zealand pets live their best lives. That's why we're stepping up our support for our charity partner, Pet Refuge.
Pets are part of the family, but until 2021, many had nowhere to go if they were affected by family violence. Most victims of family violence can't take their pets with them when seeking refuge.
In 2018, Women's Refuge researched women whose partners had abused or threatened to abuse their pets and found that 53% delayed leaving a family violence situation out of fear for their pet's safety. 73% said they would have found it easier to leave if there was a shelter offering temporary accommodation for their pets.
That's precisely what Pet Refuge set out to do: provide safe temporary accommodation for pets until they can be safely reunited with their families. Southern Cross has supported Pet Refuge from the beginning, and we're proud to say we're stepping up that support to become a Cornerstone Partner. This means we're now a pillar partner of the charity, doing more than ever to support the great work at the shelter.
Here for pets and their families
Southern Cross Healthy Futures research indicated that the rising cost of living is a significant concern for many New Zealanders, with 93% rating it as their key concern. The increasing cost of fuel, food, mortgages and rent puts a strain on families. Unfortunately, this pressure can exacerbate family violence situations. The research also indicated that 86% rated violence in society as a concern.
High-stress events, like natural disasters, can also cause a rise in domestic violence cases. Following Cyclone Gabrielle, reports of domestic violence surged by 60% in the Hawke's Bay region alone.
More people are turning to charities like Pet Refuge – and this means Pet Refuge needs more beds, food, medicines and space to accommodate more pets. In response, we've decided to step up our commitment to Pet Refuge.
Our CEO Anthony McPhail says, "We're on a mission to help New Zealand pets live their best lives, and sometimes some really sad things get in the way of this – for example, where pets live in homes with owners who find it tough to escape domestic violence or abuse.
"We're right in behind Pet Refuge, which has so far provided 31,862 safe nights to pets affected by family violence. We're delighted to have extended our relationship to be a Cornerstone Partner, which means we can help the Pet Refuge team develop their facilities and their team to help more New Zealanders and their pets."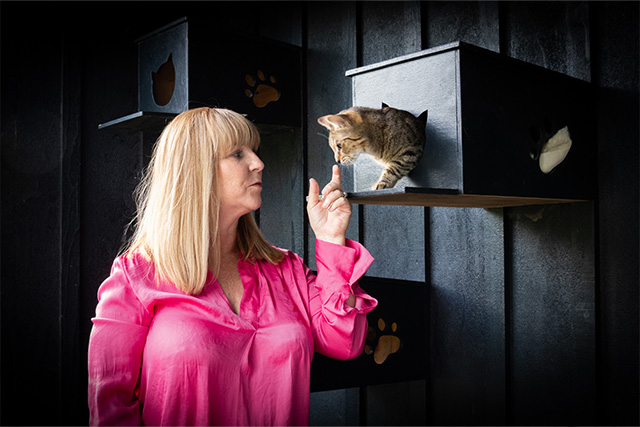 Pet Refuge founder Julie Chapman added, "We're very lucky to have had Southern Cross Pet Insurance's support right from the start. Having such a great partner choose to grow with us and enable us to provide vital support for an ever increasing need is pretty special. Since opening in July 2021, we have helped more than 365 pets and their families escape abuse, and with the support of great partners, we'll be here to help many more."
Why Pet Refuge is so important
Behind the statistics are the stories of real people and their pets who have survived domestic violence.
In their own words, one pet owner describes their experience and how Pet Refuge helped:
"My family member, who I was living with started getting really controlling and possessive. He'd scream at my child for basically breathing, and we'd lock ourselves in the bedroom. He'd walk in on me in the shower and make sexual comments – things like that.
"He made comments that if I left and the cats were still there, he would kill them and feed them to the dogs. Without Pet Refuge I wouldn't have left.
"I left in August just before Auckland went into lockdown. When he realised I was leaving to go to a friend's, he came after my friend and her elderly father, who was on a walker, with a shovel. I was barricaded in the room while he was screaming, trying to break in.
"After a few days at my friend's house, I rang Pet Refuge, because my friend wasn't allowed pets and I couldn't stay long – they didn't even hesitate, they came and got them the next day. It was a big stress off my shoulders, I was able to focus on finding somewhere to live. I will be forever grateful.
"I am so much better now. I love having my own space. It's good to feel safe and secure finally for the first time in over 2 years."
What it's like for pets at the Pet Refuge shelter
In an undisclosed New Zealand location, the Pet Refuge shelter has been designed and built with the comfort and wellbeing of beloved pets top-of-mind.
Shortly after arrival, pets have a veterinary check-up to ensure they're feel their best. More than 90% of the new arrivals need treatment, so Pet Refuge takes care of this. The shelter also provides meals tailored to each pet's nutritional needs.
Shelter attendants get to know each pet and work hard to ensure they have everything they need, from a little training to lots of loving care and hugs when they need and want it.
Exciting and engaging adventures through the shelter's beautiful grounds are organised, as well as enrichment, games, exercise and socialisation with other pets if they get along.
The shelter is designed to be homely – somewhere pets can feel safe and comfortable while they wait to be reunited with their family. This comes to no cost of the families that the Pet Refuge team are helping.

How you can help too
There are a few ways you can help the Pet Refuge team continue their great work with New Zealand pets.

Make a donation

Buy a gift that keeps on giving from the Pet Refuge online store