Toy guns are no fun for cats
Children in every street, gleefully fire foam pellets out of Nerf guns. It's a modern-day craze that's looks innocent enough – but it's a minefield for Baxter, who has been operated on twice to remove these life-threatening pellets.
Name: Baxter
Breed: Burmese
Tricks & Loves: If you can imagine a dog's brain with a cat's agility – that's Baxter. He loves to play fetch, catch a cute blue mouse and eat weird things like string.
Baxter's story: He snuck into the neighbour's house and ate a Nerf gun pellet, causing an emergency operation to remove it from his stomach. Then he did it again six weeks later. The bill: $3,000 the first time. $2,000 the second time.
What Baxter means to the family
Our other cat, Toby, lost a few of his cat mates on the road. He was so sad that we bought Baxter as company – little did we know we would have a baby girl, Zoe, and Baxter would become her most important play partner!
He loves to cuddle up to Zoe at story time and he's very attention-seeking. He'll meow when he walks into every room just to announce his arrival!
Being a Burmese, Baxter has the brain of a dog and the agility of a cat. He's always defying the rules of the house – like going on the kitchen bench. When he knows he's been spotted he jumps up onto the cabinet as if to say, "It wasn't me!"
But he's very precious to us. He greets us when we get home from work and is our little fur baby.
"We have Zoe, our baby, and Baxter, our fur-baby. Both are part of our family."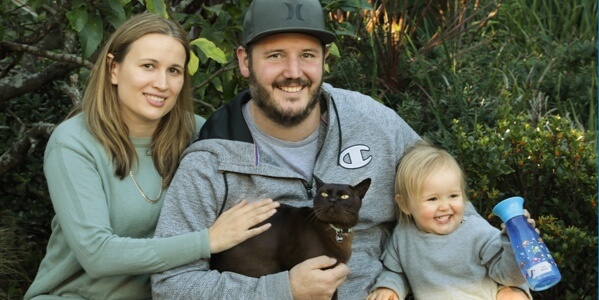 Why we got pet insurance
We've always had pet insurance. When we were young, we weren't earning a lot, so we never wanted to be put in a position where our cats had an accident and we had to say, "Ah, no – we can't afford the vet bill."
As far as we are concerned we were letting another life into our world and we wanted to protect him.
We have our daughter, Zoe, and ourselves on Southern Cross Insurance – why wouldn't we have it for our cats?


What happened to Baxter when he wandered off?
Baxter makes himself at home in everyone's house. He sneaks in and has a poke around.
One day he was throwing up a lot, so we took him to the Sunday vet. He had an emergency operation to get a black rubber thing out of his bowel. He recovered well but six weeks later it happened again. This time we took him to our local vet for another emergency operation. He survived the operation and they pulled out even more of these objects.
It was a hugely worrying time for us seeing him get stitched up once, and then again. And of course, the costs were racking up.
"We were letting another life into our world and we wanted to protect him."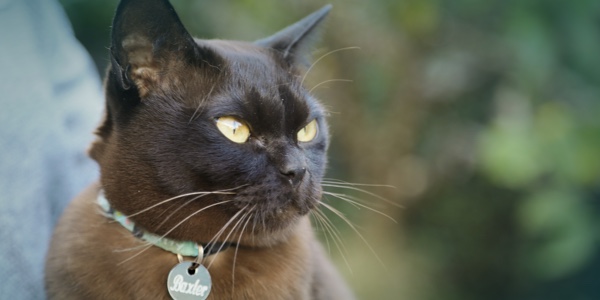 What did all this cost?
$3,000 for the emergency vet and $2,000 for the local vet..


What having Southern Cross Pet Insurance has meant for our family
The claim experience was so easy – we just filled out the form, attached the receipts and a few weeks later we got paid back. Sharing these costs with Southern Cross (we have a co-payment policy) was a huge relief – we love our pets so much that we would do anything to save them.


How is Baxter now?
He's back to his normal self – throwing tantrums and tearing up our carpet. And Toby, our other cat, is glad that his cat-mate is back.
Interested in protecting your pet with Southern Cross Pet Insurance? Get a quick and easy online quote now.
We'd like to the thank Kate, Cole and Baxter for welcoming us into their home and allowing us to share their story. Our customers really are the best.