Pet insurance pays off
Having successfully bred, trained and won awards with her two beloved Labradors, Sally Felton was looking forward to building her competitive performance with a new puppy. But Merlot's free spirit and sense of adventure have brought a new set of challenges, leaving Sally relieved that she has Southern Cross pet insurance.
Name: Merlot
Breed: Black Labrador
Tricks & Loves: Tackling adventures at full speed, causing mischief wherever she goes.
Merlot's story: Playing in the forest earned Merlot a broken leg and a trip to the vet.
A former vet nurse, Sally's association with Labradors has included breeding them, being a committee member of the Labrador Club and training her own dogs to Gold status in the Eukanuba Canine Good Citizen™ Test.
More recently she's entered her dogs in Rally-O – a fun, challenging evolution of competitive obedience in which they complete exercises such as turns, position changes, heeling around cones, halts, stays and jumps.
Having achieved excellent results with Labradors Fern and Tui, Sally was keen to train another dog and happily accepted a breeder friend's offer of Merlot. However, she soon discovered that her little black puppy was "a very different dog" from her other two models of good behaviour – this one was a bundle of energy with a keen interest in mischief-making!
"Merlot tackles everything at 100 miles an hour, and I soon realised that renewing the insurance would be the logical thing to do."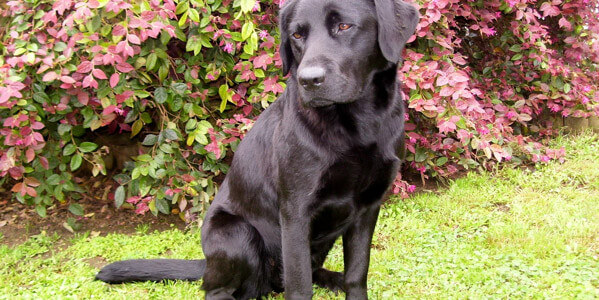 Heading for trouble
Sally says she was fortunate that in registering Merlot with the New Zealand Kennel Club she received six weeks of FreeCover. She'd never considered it before.
"Merlot tackles everything at 100 miles an hour, and I soon realised that renewing the insurance would be the logical thing to do," she says. "I decided on AcciPet because it was affordable and also because of Merlot's temperament; trouble was always around the corner!"
Of course the inevitable happened. At just 16 months old, during an organised Labrador Club walk, Merlot broke one of her front legs.
"She was playing with the other dogs among the tracks in Whitford Forest," says Sally. "We're not sure exactly what happened but she suddenly came screaming towards us; she was clearly frightened and in pain."
Merlot's leg rapidly became extremely swollen and bruised, so Sally took her to Franklin Vets in Papakura – and that's when her investment in AcciPet proved its worth.
"A plaster cast would have been the cheaper option, but the insurance meant I could give Merlot the highest standard of care. The next day she was back at the vets for surgery, where they repaired the broken bone with plates. Without the insurance the whole process would have cost me more than $4,000!"
Sally found claim lodgement and approval just as easy.
"I did it all online and the payment was made quickly to my bank account," she says. "The only waiting I had to do related to Merlot's post-op recovery, when she wasn't allowed to run around – she would have loved to be out in that forest again!"