When Mia the dog ate chocolate
Whippet dogs are known for their discerning tastebuds, but Mia's a little bit different. You name it, she'll eat it – or at least try to.
She's eaten one pair of glasses, two pairs of shoes and is notorious for stealing carrots when the fridge door is open. Mia is so well known at her local Animal Referral centre her family gets a Christmas card from them each year.
Despite Mia's family being extra-cautious, one day Mia managed to find a peppermint chocolate bar. Chocolate is toxic to pets and can cause serious illness. Here's what happened.
Name: Mia
Breed: Whippet
Tricks & Loves: Enticing her Whippet friends to cause trouble with her
Mia's story: Mia managed to steal and eat an 80g chocolate bar from a closed handbag that was hanging out of reach on a hook. She was rushed to the vet for treatment and given charcoal and fluid to flush out her system.
Mia is a pure breed Whippet and an ex-show dog. She lives with Tamara and her family.
"If I didn't know she was pure-bred, I'd have guessed she was part Labrador," jokes Tamara, "Because everything goes in. We've done training. I even got some training support, but she's incredibly clever and the life and soul of the party. So, she leads her other Whippet friends into some bad behaviour that they'd never normally do".
"This includes pulling over the rubbish bins and working out how to open them. It includes eating my work glasses and liking the rust killer in the garage. Everything goes in."
Tamara adds that it's a little bit like living with a toddler and the family is extra cautious. Leave the fridge open for a moment and Mia's in there, stealing carrots.
"We have everything locked up or out of reach because she's so sneaky."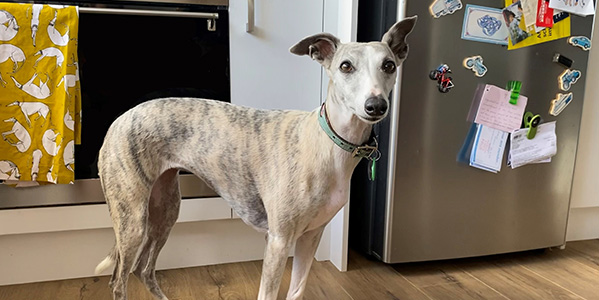 Tamara runs leadership development workshops as part of her job and there are often chocolate bars and muesli bars on offer as snacks during the workshops. One afternoon, at the end of a busy day at work, Tamara popped an 80g peppermint dark chocolate bar in her handbag in case she wanted a snack on the way home. When she got home, she hung her handbag on a wall hook.
"We were having dinner and I smelt a really strong peppermint smell and I went: where is that smell coming from? Then I looked at Mia and noticed that her nose had chocolate on it. I pulled her lips up and I saw that her teeth were covered in chocolate. She smelt like a peppermint ball and was looking really guilty."
Mia had managed to pull the handbag down from the wall, open the bag, open the chocolate bar and eat the lot.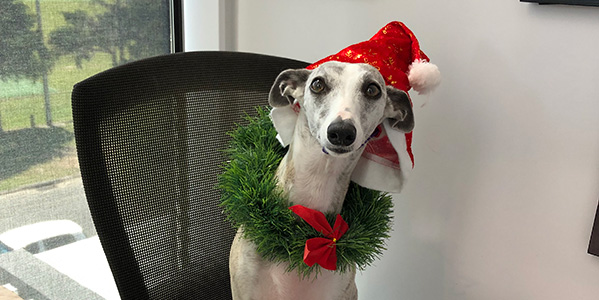 "She knows when she's eaten something she shouldn't have, she won't make eye contact!"
Chocolate contains theobromine, a compound that occurs naturally in cacao and other plants, like coffee beans. While humans can eat it, it's toxic to dogs and can cause vomiting and diarrhoea as well as more serious illnesses like seizures and even death at high doses.
Dark chocolate is particularly dangerous because it contains higher amounts of theobromine.
Though Mia only ate a small amount of dark chocolate Whippets are small, lean dogs, making the situation more serious. Tamara contacted a veterinary nurse friend straight away, who told her to take Mia to the nearest emergency vet for treatment.
What happened when Mia the Whippet ate chocolate
Mia had eaten a potentially life-threatening amount of chocolate, but Tamara's quick actions meant she got treatment in time.
"We took her to a North Shore vet who was awesome. They got her throwing up straight away. Mia was looking quite sorry for herself by that point. Because of the quantity she'd eaten, they kept her in overnight on an IV and fluids and stuff.
"[…] We joke about having a dog that loves to eat everything and we're really careful… but this felt like the closest call."
The treatment worked well and Mia's had no serious side effects. Blood tests confirmed she hasn't got liver or kidney damage as a result of eating chocolate.
Tamara has Southern Cross Pet Insurance for Mia with a 20% co-payment. Mia's trip to the vet cost $1,715 and Southern Cross paid $1,366 of that.
"In the moment, you have to make a fast decision," says Tamara.
"Having insurance means money doesn't come into that decision-making, it's off we go and get the problem sorted. I don't have to worry about money, we just worry about Mia who is a massive part of my and the kids' life.
"For some people, insurance might feel like a real luxury but I guess for us and our experience, it's worth it and we've got huge value out of it. I'm a big advocate of it. And the 20% co-payment option means that the premium is a bit lower."
Tamara says that, despite her experience, Mia's back to her old tricks.
"Has she learned from it? No. She hasn't eaten chocolate again since, but that certainly doesn't mean that she hasn't tried to…".
Interested in protecting your cat or dog with Southern Cross Pet Insurance? You can get a quick, easy online quote now.
We'd like to thank Tamara and Mia the dog for allowing us to share their story. Our customers really are the best.
Disclaimer: Mia is on a PetCare GoldRibbon plan with a 20% co-payment. See what our different pet insurance policies cover