Molly's Folly.
It's the smallest things that often create the biggest mayhem. For Molly, a petite Pomeranian Cross, she simply leaped from Laura's arms and fell awkwardly. That set off a mad dash to Auckland to get her wee leg fixed before Christmas.
Name: Molly
Breed: Pomeranian Cross
Tricks & Loves: Molly is not a fan of balls but give her a frisbee and you won't ever get it back off her!
Molly's story: Molly leapt from Tracey's arms, fracturing her leg. Because she is so small, the operation was delicate, and she had to be seen by a specialist.
How Molly became part of the family
Molly is a Pomeranian Cross. She's white, fluffy and loves nothing better to do than curl up on a couch like a cat. But give her a frisbee and she's a pocket rocket around Moa Park!

"We got Molly for our son, Sam, because the two eldest children were heading off to university," explains mum, Tracey. "Molly sees Sam as a litter mate - they are on equal footing, she will play with him in ways that she won't play with anybody else. They just really, really love each other."

In terms of the family pecking order, it goes Tracey, Sam then Molly. "Molly thinks she is the boss of my husband and my other daughter, so she rules the roost a lot of the time!"
"Molly is a pocket rocket around Moa Park!"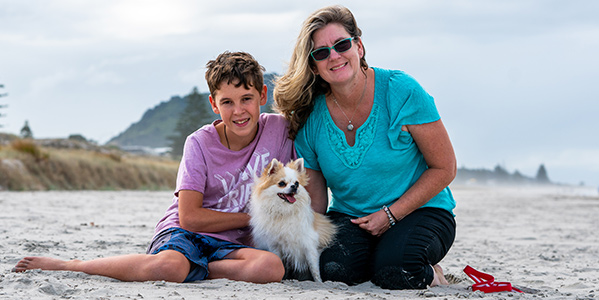 Why we got pet insurance
"We initially took up the Six Weeks' Free Health Cover from Southern Cross Pet Insurance, which we used when she chewed on a stick and got laryngitis. Then when the cover was about to run out, I said to my husband, "Shall we get the full cover?". He didn't think we needed it, but I ignored him and got full pet insurance anyway!"
What happened the very next week?
"I was walking Molly along the beach. I picked her up and literally half a metre off the sand she jumped out of my arms and landed funny. That was 7am in the morning, so we made a mad dash to see Tony at Tauranga Vets."

It was just a few days before Christmas and Tony (who by the way has five sheep, four cats, two dogs, birds and goldfish of his own - but no Partridge in a pear tree) immediately diagnosed a displaced fracture, aka broken leg.

The trouble was, Molly was so small that her bones were like chicken legs. A cast wouldn't work so she needed a plate to be inserted in her leg by a specialist in Auckland. Another mad dash.

"I rang my husband from the car on the way up to let him know. His immediate reaction was "how are we going to afford this?" at which point I advised him that I had actually taken out the insurance despite what he said. His next words were, "You're awesome."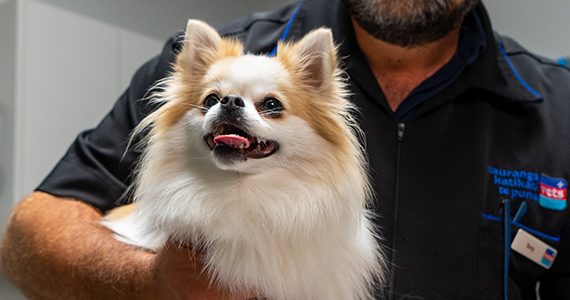 "Molly's broken leg cost $5,600 to fix in Auckland."
What all this cost
"When and Tony told me how much it was likely to cost, I did have a little bit of a heart attack. Her operation cost $5,600 but, with follow up visits, it's probably been $7,000 in total."
What having Southern Cross Pet Insurance has meant for our family
"Dealing with Southern Cross was really easy; it was a phone call which I rang them from the car on the way to Auckland and it was paid out very quickly. Without the insurance, we certainly couldn't afford the operation. We've got three children and it's just out of our budget. We are really, really happy to have her as part of the family."
How is Molly now?
After the surgery, Molly spent six weeks in recovery, with gradual walks building up to now where she is running around after that frisbee like it is a big juicy bone.

Says Tony, "We've seen Molly since then for her regular vaccinations. Thankfully we haven't seen her for anything quite as serious as her fractured leg. I think she learnt her lesson not to jump out of her owner's arms!"