Pet insurance: never too early
It was love at first sight when Renee Parker and her family met Elsa, so they were devastated when tragedy struck just a few weeks later.
Name: Elsa
Breed: Boxer
Tricks & Loves: Following Lucy around – where Lucy goes, Elsa goes. They are joined at the hip.
Elsa's story: Else broke four toes, including shattering one completely, shortly after joining her family.
Adding a dog to the household wasn't high on the agenda for Renee and her husband, who already had two cats and a dog, not to mention four children and a kiwifruit orchard, to keep them busy. But when they heard that some Boxer puppies were for sale, they couldn't resist taking a peek.
"We took one look at Elsa and that was it – we had to have her!" laughs Renee, adding that three-year-old daughter Lucy immediately adopted the puppy as her own.
With what turned out to be amazing foresight, Elsa's breeder knew about and signed Elsa up for Southern Cross's Free Puppy Cover. Providing six weeks of cover and up to $1,500 for vet tests and treatment, it was soon to prove its worth.
Accidents will happen
When Elsa was just a few weeks old, the Parkers' lives turned upside-down in a second.
"My brother was outside splitting wood and Elsa was safely indoors in her basket," says Renee. "But then Lucy decided to go outside and left the door open, which was a clear signal to Elsa that she should go too.
"My brother was in full swing, and next minute a piece of wood flipped up and landed on one of Elsa's feet. Suddenly there was total chaos: Elsa was screaming, Lucy was sobbing, my brother was desperately trying to calm things down and I was running around trying to find out what had happened!"
A race to the vet ensued, where X-rays revealed that all four toes in Elsa's foot had broken; one had shattered completely, one required surgery and a pin and all four would ultimately be encased in a plaster cast. She was hospitalised for three days – and as you can imagine, the costs began to mount up.
"We soon realised the value of having that health insurance," says Renee. "The total bill for that tiny foot came to more than $1,600."
"We soon realised the value of having that health insurance," says Renee. "The total bill for that tiny foot came to more than $1,600."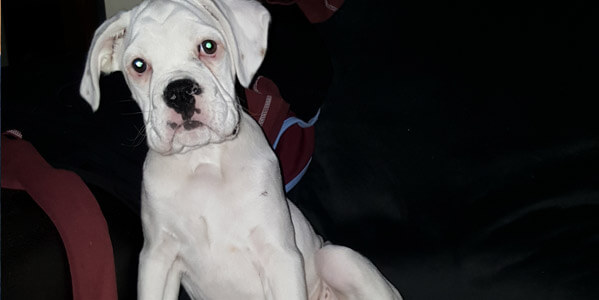 Making insurance a must
Thankful that Elsa was expected to make a full recovery, Renee was quick to sign her up to Southern Cross's AcciPet plan when the FreeCover expired. She selected the co-payment option, which means the family pays 20 percent of the costs of Elsa's vet care.
"We weren't planning to continue with the insurance, but Elsa's accident showed us that anything can happen at any time," says Renee. "AcciPet is an inexpensive investment given the likely costs of vet care after an accident."
That the claim process was a piece of cake. "I rang Southern Cross to tell them about the accident," she says. "They told me what to do next and emailed the claim form. The vet costs were refunded within a couple of weeks – we couldn't have asked for a better, smoother process."
The whole family is mad about camping, and with Lucy and Elsa now all but joined at the hip, Renee's looking for a dog-friendly campground for the next family holiday.
"It's so fantastic to have our puppy safe and well," she says. "Elsa's a huge part of our lives, and AcciPet gives us great reassurance that she'll be looked after if she has another accident. She's so boisterous, it's quite likely!"