Wilbur's Cancer Curveball
One day Wilbur was his usual "chocolate ball of naughtiness" - the next, he was diagnosed with cancer. This is the story of how he beat the odds with a bit of help from his family and insurance.
One day Wilbur seemed fine - the next, he was diagnosed with cancer. It was a long night for Carol and Simon as they weighed up eye-watering costs with Wilbur's age. But by morning, the decision was unanimous: Operate
Name: Wilbur
Breed: Chocolate Labrador
Tricks & Loves: Wilbur loves chasing tennis balls (but be warned - once you start playing his game, you'll be there forever!)
Wilbur's story: One night, Wilbur went to the toilet six times. Follow-up vet visits revealed he had a cancerous tumour.
The claim: Southern Cross paid out the total benefit limit of $10,000, and the family paid the rest.
What Wilbur means to our family
Think of a name for a chocolate Labrador and what springs to mind? Milo. "This was the family's first choice until we discovered every chocolate lab in the world was named Milo," laughs Carol. So that night, Carol, Simon and their two children put names in a hat and pulled out...Wilbur.
"Wilbur was initially our son's pet," recalls Carol. But canine creatures are quite cunning and Wilbur quickly worked out where food came from, becoming Carol's constant companion. "The kids' joke that I love Wilbur more than them," she laughs.
"He's the best dog ever. Loves chasing tennis balls all day long."
"He's the best dog ever. Loves chasing tennis balls all day long."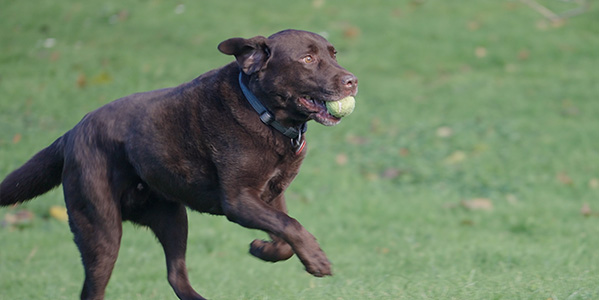 Carol has her vet to thank for pet insurance
When Wilbur was a puppy, Carol took him to their local vet, Megan from the Strand Veterinarian, for a free health check. "Megan is a strong advocate for pet insurance. I trusted her, so I took her advice, looked into it and signed Wilbur up."
That proved to be good advice as Wilbur never really outgrew his "active puppy phrase." When he had his anal glands removed, Megan said, "Thank goodness he had insurance." Then he ate a poisonous plant, had a few scares eating dead fish bones and had his stomach pumped after getting into the chocolates at Easter.
But in the last few years, the 'chunky monkey' had slimmed down, and Carol contemplated dropping the insurance. Luckily, she didn't.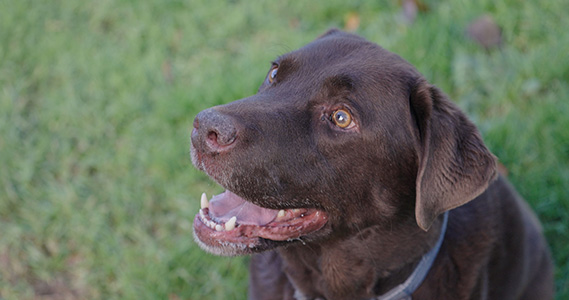 "I always say to people now that pet insurance is even more important as pets get older."
One night, things took a dramatic turn
"Every hour, Wilbur woke me to go to the toilet, but he couldn't pee," recalls Carol. So, she took him to Megan who initially treated him for infection. But when the issue recurred, Megan decided more investigation was needed.
"Because I had pet insurance, she referred Wilbur to a specialist for an abdominal ultrasound." The scan picked up that Wilbur had a tumour and was likely to be inoperable, which meant he was likely to die.
"That night, Megan rang us and told us the news. I was a mess."
The family talked all night, weighing up Wilbur's age, quality of life and the potentially eye-watering costs. In the morning, they decided to go ahead with the operation. Amazingly it was successful, and, after a period of recovery, Wilbur was back to normal.
What having Southern Cross Pet Insurance has meant for our family
Without insurance, we would not have been able to go ahead with the surgery. As I said to Megan, again. "Thank god we had pet insurance."
How is Wilbur these days?
Nowadays, Wilbur is back to his usual dynamite self. The whole family is happy (except Max, the cat, who wasn't so glad to get his archenemy back!)
Interested in protecting your cat or dog with Southern Cross Pet Insurance? You can get a quick, easy online quote now.
We'd like to thank Megan, Carol, Simon and Wilbur the dog for allowing us to share their story. Our customers and vets really are the best.
Disclaimer: Wilbur is on a GoldRibbon PetCare plan with a 20% co-pay. See what our different pet insurance policies cover